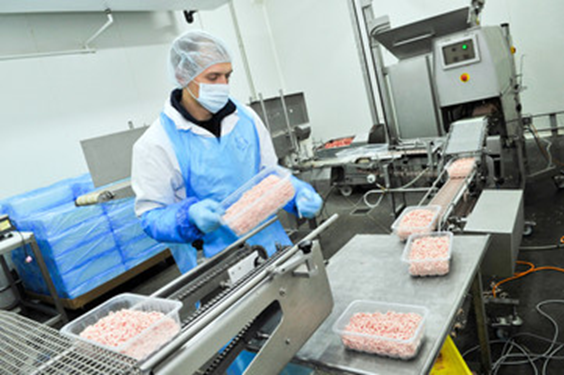 Superior Farms would like to extend its most sincere sympathies to individuals that have been negatively affected either physically, financially, or emotionally by the current crisis. At Superior Farms, the continued safety of its employee-owners is immensely important. Because of this, very early on in the crisis, extraordinary precautions were taken to ensure their wellbeing, and the company is fortunate to find that none of its more than 470 employee-owners have been seriously affected the COVID-19 crisis as of late.
Superior Farms recognizes that this pandemic presents a host of difficulties for both its food service customers and the American lamb industry. In the last week of March, as stay at home orders and social distancing measures were implemented across the country almost overnight, restaurants all over shut their doors and as much as 50 percent of the industry's revenue was impacted. The implications of this reality are not lost on Superior Farms, and the company has established a list of core objectives during this time. For example, Superior Farms has noted the increase in demand in retail demand for American lamb and has worked tirelessly to meet these demands to the benefit of consumers across the country. To this point, Superior Farms has also made it an objective to get its product to retail customers quickly by efficiently processing as much lamb as possible at its facilities. Ensuring that the company can support food service customers in any way possible and devote the necessary energy to prepare for their eventual reopening is another objective that Superior Farms upholds through the ever-changing landscape of the current situation.
Superior Farms is optimistic that these challenging times can be successfully navigated. Optimism can seem naïve to some, but Superior Farms and its dedicated team choose optimism as their preferred way to respond to the challenges that the COVID-19 crisis present to them. This is because Superior Farms acknowledges how much more powerful resolving to do something in response to tough situations is than saying that there is nothing that can be done to change the tide of an unfortunate situation. Every day, each of Superior Farms' employee-owners do everything that they can to ensure that the company can meet the growing needs of our valued, loyal customers. As the COVID-19 crisis continues, it is important to remember that we are in this together and that we, together, will continue do what is necessary to succeed and come out of this stronger than ever.