It's been decided. 2022 is a year for recovery, rebuilding, and good eating.
Learning about new cuisines and trying experimental flavors show how we've all gotten interested in fresh ways of thinking about food, and below, Superior Farms takes a look at some of the latest trends in dining this year.
No-Fuss Food
The pandemic and subsequent lockdown gave us time to develop our culinary skills but now things are returning to normal, we're seeing a rise in people wanting quick, no-fuss meal solutions.
That's why 2022 is already seeing a rise in meal kit purchases, high-quality ready-meals, and food solutions that are still tasty and enjoyable, but that don't require hours of preparation.
Meal prepping ahead of schedule is on the rise, too, however, as we use the weekends and other free time to put together meals for the week.
Staying at Home is Here to Stay
We might not be governmentally mandated to stay home any longer, but while quarantine sanctions have been lifted, many of us are still choosing to dine at home.
It means that restaurants are having to diversify their businesses to not only encourage the return of dine-in customers but greatly improve their takeout and delivery services. This way they don't lose customers, and customers don't lose out on their favorite cuisines.
Sustainable Solutions
We've all come out of the pandemic more aware of the world around us, and our impact on it. This has led to many of us making more conscious decisions around not just the kind of food we eat, but where it's sourced.
It's what's leading people back to naturally-raised foods, such as fresh lamb from American farms using sustainable and innovative methods in their production, as companies live the change they wish to see in the world.
It's why we're seeing a huge rise in mushrooms, too. They're the food we can't seem to get enough of now, and it's so easy to grow them at home and accompany them with our favorite meats or even enjoy them on their own.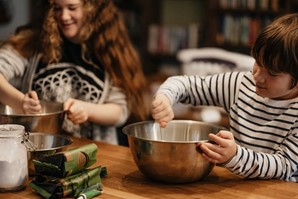 Experimenting with Flavors
Restrictions on travel have left us with a wanderlust we've not been able to satisfy for a while, but we can go some way to alleviating the craving for the exotic by introducing new spices and flavors in the kitchen.
Whether it's a hearty lamb broth dashed with paprika and Worcestershire sauce, an umami-rich seaweed salad with garlic-infused hot oil, or a tart, earthy shot of hibiscus in your favorite cocktail, 2022 is a time to experiment with the kinds of flavors we might never have tried before.
Watch out for the 'swicy' trend, too – swicy is the buzz word of 2022 and means a mix of sweet and spicy sensations in one.
One thing's for sure: we're excited to see where 2022 takes the culinary world, and we're sure that with the best quality, sustainable ingredients, we'll be able to enjoy some wonderful dining moments.