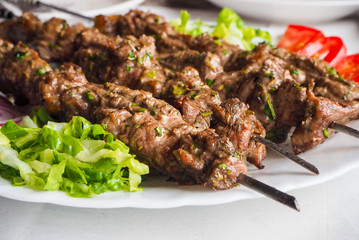 Lamb is continuously touted as one of the most versatile proteins on the market- and for a good reason. Not only is does its flavor profile lend itself well to a variety of seasonings, but it also stands out as a staple protein in many cultures across the globe. Superior Farms acknowledges that, as lamb grows in popularity in the US, people have started to look towards other cultures' cuisines to fully unlock the potential of lamb in their meals. Here, Superior Farms includes a few different cuisines where lamb is popular and how home cooks can utilize tried and true techniques to make delicious meals.
Greek Lamb for Bright, Fresh Flavor
Lamb has remained a staple in Mediterranean culture for centuries, and it is not hard to imagine why. Its flavor profile meshes perfectly with many of the spice blends that are used throughout the region, and it similarly pairs well with the fresh ingredients often found in Mediterranean cooking as well. Greek food is a prime example of how a lamb chop can be treated expertly with a few simple ingredients to create a delicious flavor profile. While there are multiple ways that one can marinate lamb for Greek cuisine, many will utilize lemons, olive oil, garlic, oregano, thyme, salt, and pepper. By mixing these ingredients together, home cooks can create an excellent flavor profile for their lamb chops. Simply marinate the lamb for 4 to 5 hours and cook as you would normally.
Indian Lamb for a Rich, Hearty Meal
Lamb is a popular protein for Indian curries, as its flavor works wonderfully with the depth that a simmered, spice-rich sauce can provide. One of the benefits of using lamb for Indian curry dishes at home is that you often will not need to marinate ahead of time to get the taste just right. Most effort will, instead, go into developing a sauce that the lamb will absorb the flavor of over time. By caramelizing onions and sauteing ginger and garlic, home cooks can create the base for an amazing lamb curry. From there, it is as easy as sauteing pieces of lamb leg or shoulder to get a good sear on the outside. Then add ground coriander, cumin, paprika, cayenne, and tomato, stirring in yogurt and enough water to cover the meat. Cover and cook for an hour, stirring every 15 minutes to get delicious and tender lamb. Lamb curry is a great meal for experimenting because it does not require much active cooking time.
Turkish Lamb for a Spicy, Flavorful Bite
Lamb is popular for grilled meats or kebabs in a variety of Middle Eastern countries. As a result of its popularity, there are several different methods for marinating lamb for a flavor-rich bite. Some Turkish kebabs utilize spicy marinades, which home cooks can build with ingredients such as garlic, olive oil, tomato paste and a variety of spices. Paprika, cayenne pepper, cinnamon, cumin, thyme, and black pepper are all incredibly popular in spice mixes for marinades. By marrying these flavors and giving 1-inch chunks of lamb leg around 2 hours to properly take on the profile of the marinade, home cooks can grill kebabs that rival their favorite restaurants.
Superior Farms recognizes that there are an astonishing number of ways that lamb can be cooked, and the above list represents but a small selection of the options available for those wishing to experiment with the protein. With just a bit of practice and a willingness to learn from other cultures' preparations of lamb, a home cook can develop a strong repertoire that gives way to thousands of possibilities.